How to measure your belt size


OR use your pants waist size and add 2 inches. e.g. If you wear 38 pants, your belt size is 40"
Knot Belt

Here's a belt that would interest historians, mechanics and musicians
No metal to scratch or damage fragile materials
Knot Belt (aka Snake Belt)
I was shown this design back in the 70's. I can't remember the craftsperson that showed it to me, but when I returned home I tried to recall what I saw and this belt is what I remembered. He told me that the design was 16th Century Spanish.
It is made from a vegetable tanned sole bend cowhide, about 12-14oz thickness. The thickness of leather is measured in ounces, where one ounce equals 1/64 inch. So in inches that's 3/16" to 7/32" (.188" - .219"). As you can see it is quite thick and that thickness lends itself to this marvelous design.
In the years following I made about a dozen of them, all custom made and sized for each customer. This one is my old belt. Not for sale. (Maybe someday it'll fit me again.)
Modern Sculpture or Belt Buckle
Here's a buckle that would interest modernists and design engineers
One simple piece of metal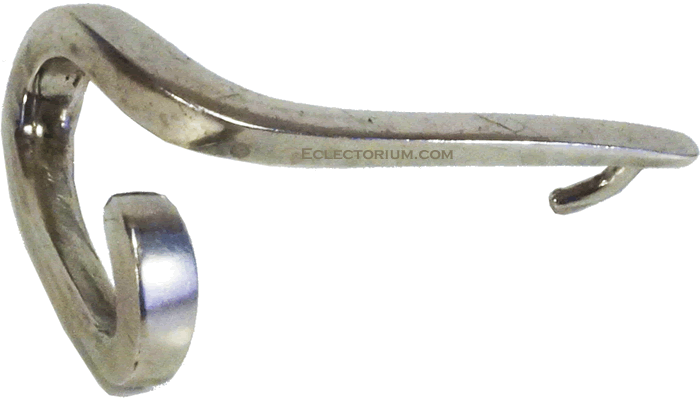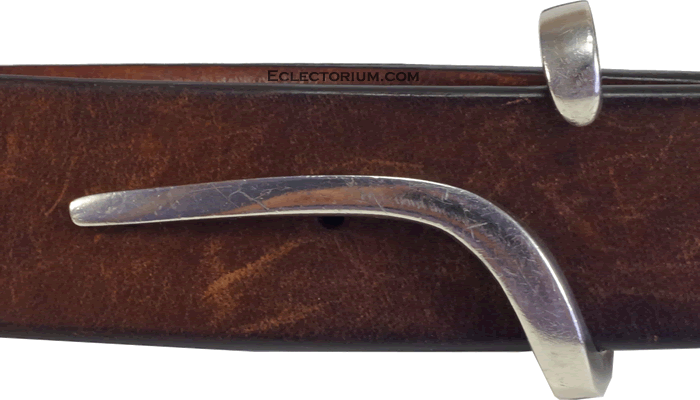 Simple slick one-piece design belt buckle
Modernist, utilitarian, simplistic, and functional. The design is the ultimate belt buckle and quite handsome worn. It is made from cast nickle-brass and polished to a high sheen. On the back it is inscribed - BW Goldsmith, dated '75 (1975) and numbered #101/1000.
This is one of my favorite buckles. Not for sale, I still use it.
BELTS
Belts are sized from your measurements. Buckles sold separately.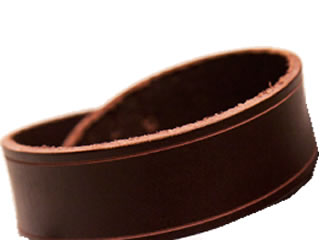 Hand Made Teak Leather Belt
#BE01
Top quality full grain vegetable tanned cowhide. 8-9 ounce heavy weight teak shoulder. Two or Three solid brass Chicago screws (or brass snaps on request) are used to securely hold buckle in place. I put 5 holes to match the buckle tooth, with the center hole at your belt size. The edges are beveled for a smooth look and easy on. The end is cut using a rounded V belt end tool. All belts are hand rubbed for a beautiful finish. Custom width to perfectly fit any buckle that I sell. Color: Brown. Sizes up to 48" belt size. Made in USA.
Hand Stained Belt
#BE02
Hand made wide belt. Heavy weight full grain hand dyed vegetable tanned French Bridle cowhide leather. Beveled and hand dyed edges, chrome or brass heavy duty snaps or chicago screws and leather loop keeper. Available in black, brown or tan. Made in the USA. Choose buckle for perfect fit.